£3,799.99
Incl. Vat
Including Shipping
(Mainland, excluding islands)
Luxurious Corner Lounge Set with Romantic Firepit Table
The RN Range became one of our all-time bestsellers as soon as it was released onto our European markets. It's trademark clean horizontal lines can now be seen across France, Spain, Italy and Germany. We believe our valued British customers will fall in love with it too – we certainly hope so. The RN-1 M with Height-Adjustable Firepit Table consists of a modular corner sofa, which you can separate out into 2 Middle Sections, a Central Corner, a Left-Hand Corner and a Right-Hand Corner. These elements can be arranged to fit your garden or terrace. It's the Firepit Table that provides the centrepiece, bringing all parts of the set together. The dancing flames, painstakingly designed to resemble a blazing bonfire, draw everyone's gaze and transform the atmosphere of the occasion. The table can be lowered when in use as a coffee table and raised when in use as a dining table. It will heat your garden on autumn evenings and provide lighting after the sun sets. It has an output of 8.8 kW and is operated with the help of a gas bottle that can be placed underneath the tabletop. Four unobtrusive glass plates ensure that operation of the firepit is entirely safe. When you wish to use the table for dining only, a matching plate takes the place of the firepit, providing a smooth, uninterrupted surface.
RN Style, RN Durability
One of the secrets of the popularity of the RN Range is the combination of top-of-the-range materials with world-class design. The aluminium is extremely lightweight but exceptionally strong. The powder-coating, either in white or slate-grey anthracite, makes the furniture completely weatherproof, so it will be transforming the look of your garden for years to come.
Our cushions are made from extra-thick and supportive foam, providing greater comfort that any other available outdoor furniture. The cushion covers are 100% polyacrylic.
Delivery & Dimensions
1x Left-Hand Corner
1x Right-Hand Corner
2x middle section
1x middle corner section
1x Firepit table height adjustable
All cushions are included
Scatter cushions not included
Product may vary slightly from image
Including 4 protective glasses for the fireplace, a cover plate for the use of the table without fire function as well as an approx. 1 m long hose (without gas bottle). We recommend propane gas with a capacity of 5 Kg.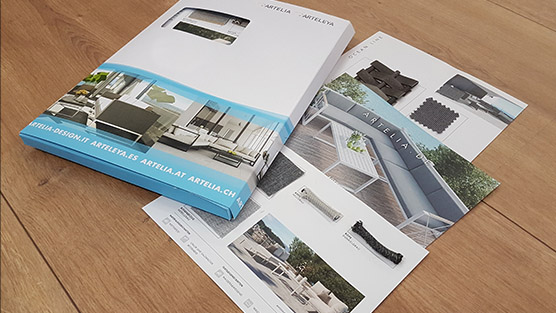 Material Samples
Garden furniture from Artelia - See For Yourself!
Our Materials At A Glance
Our Samples

Get information here on the following topics:
Product Information
Safety Instructions
Our Quality
find out more here