Incl. Vat
Including Shipping
(Mainland, excluding islands)
Our classic, outdoor Rattan Cube Dining set: BOREAS L!
This space-saving, cube-design set is, for many, love at first sight. And when we say 'cube', we don't only mean the shape of the four stools and six armchairs. It's also what you get when you're not using your set: just fold the back cushions down, slide everything under the table, and you have a compact cube which doesn't take up much space. The lightweight, powder-coated aluminium frame and the robust, weatherproof design of our outdoor rattan cube set is available to buy in either black or brown. The surface of the table is a 5mm thick sheet of safety glass. All UKFR (UK fire resistant) cushions and cushion covers are, of course, included as standard. The cushion covers can be removed and washed at 30 degress. The armchairs feature practical handles for ease of carrying. And the height of the stools has been precisely thought out, so they're great for putting your feet up. When not required, the stools vanish underneath the chairs and the chairs under the table; if you still think that BOREAS L could be a little too big, take a look at its smaller cousin, BOREAS M. You won't be able to resist it! In any case, big BOREAS L or BOREAS M, every piece is unique, because the rattan in all of our sets is woven by hand… you don't get more one-off than that!
BOREAS L's cushion covers are made from 100% polyester, while the filling is made from foam.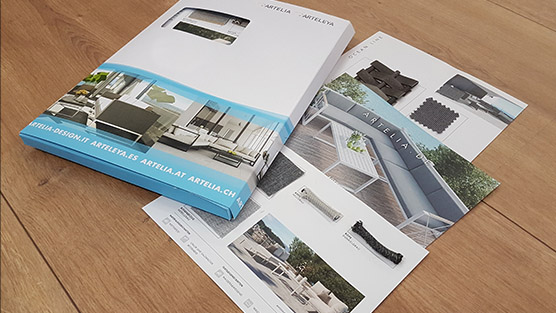 Material Samples
Garden furniture from Artelia - See For Yourself!
Our Materials At A Glance
Our Samples

Get information here on the following topics:
Product Information
Safety Instructions
Our Quality
find out more here