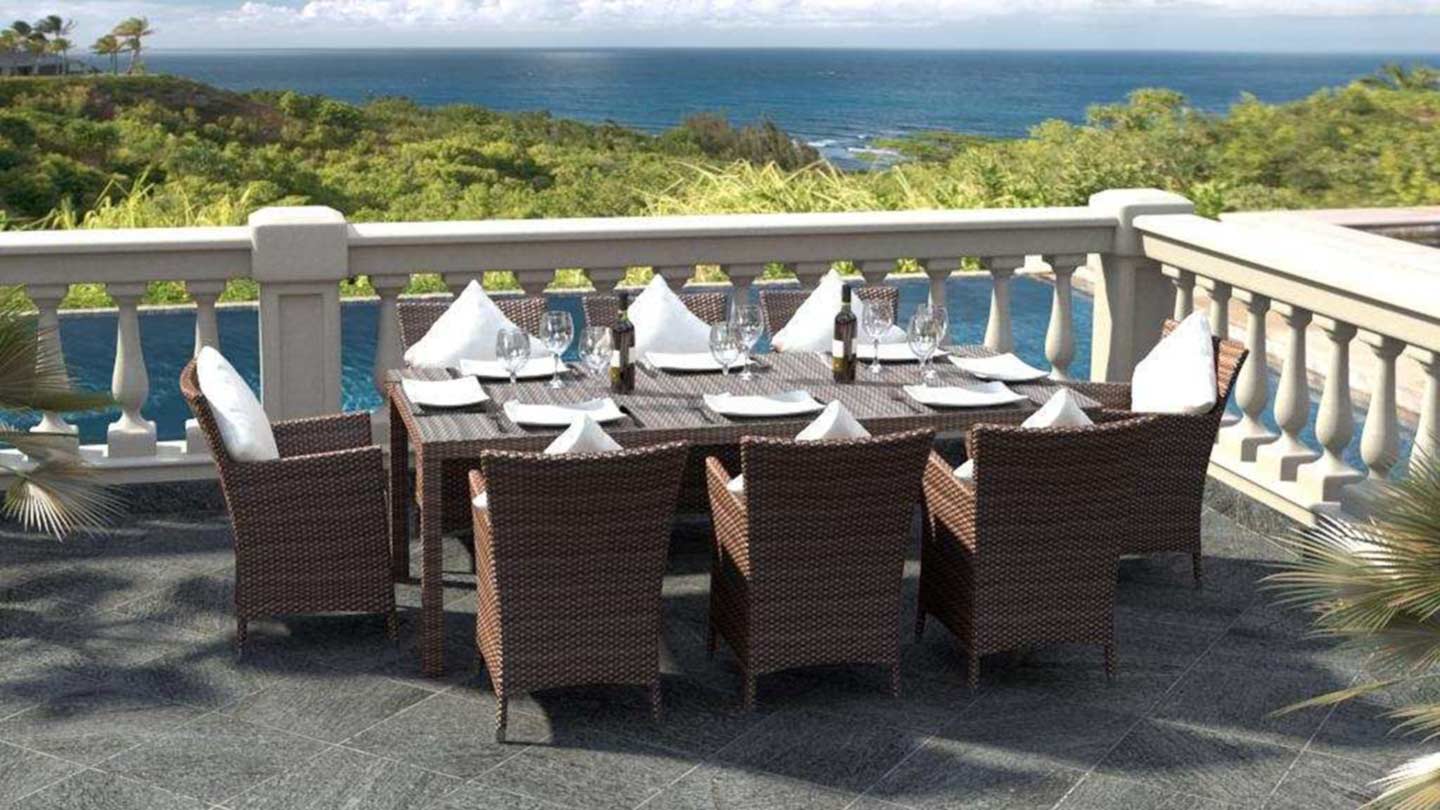 Ceres XL
Rattan Dining Table Set
Artelia-Design
UK1036
| | | | |
| --- | --- | --- | --- |
| | Rattan | Price | Availability: |
| | black rattan | £999.00 | In stock (delivery in 5 working days) |
| | brown rattan | £999.00 | In stock (delivery in 5 working days) |
| | coarse grey rattan | £999.00 | In stock (delivery in 5 working days) |
Order material samples free of charge!

---
---
360° view
Have a look at the rattan garden furniture set from all angles!
---
Features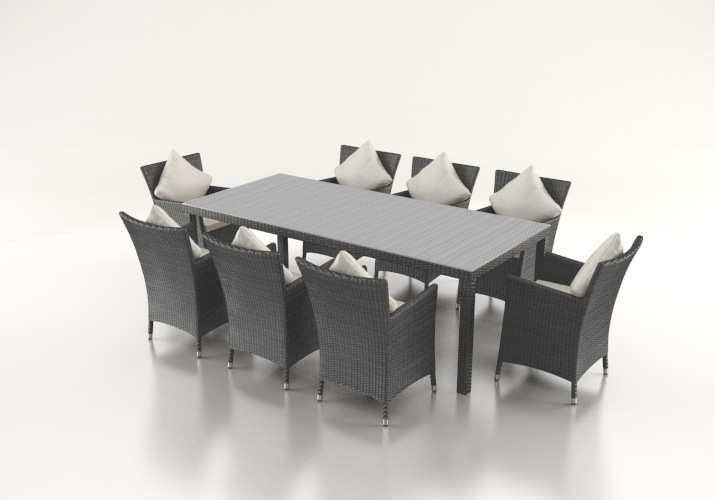 For every occasion: the CERES XL 8 Seat Dining Set
For those times when you're unsure whether you'll need five chairs, or maybe seven. For those who often have to cater for surprise guests. For those with big families, or wide social circles – meet the CERES XL 8 Seat Dining Set. It comes with eight chairs, each complete with luxury seat and back cushions, which make it easy to relax: just choose a seat and take the weight off your feet. CERES XL's generously -sized table seats eight comfortably. Its fully woven top is protected by a sweeping, single sheet of glass; like all of our sets, each piece is hand-woven using top-quality, durable, UV-resistant rattan. The lightweight, powder-coated aluminium frame will stay rust-free. The cushions meet all UKFR (UK fire resistant) guidelines for domestic use. All these qualities make this rattan dining table set perfect for the day to day rigours of family life, year after year. Available in classic black or smart brown, the CERES XL 8 Seat Dining Set won't disappoint. If you're looking for something a bit smaller, no problem! Check out the other members of the CERES family. The dining table set also comes as a 6 seat set and a 4 seat set. Treat yourself and your guests to something special – even before you've laid the table.
The CERES XL 8 Seat Dining Set's cushion covers are made from 100% polyester, while the cushion filling consists of foam.
The set will be delivered unassembled. Some self-assembly required.

---
Rattan colour
Rattan colour

Please wait, loading...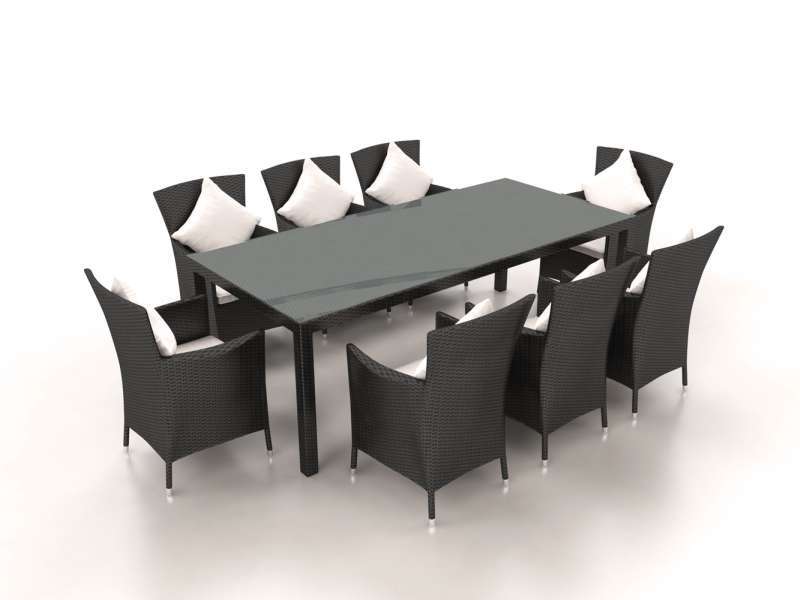 Rattan
Cushion cover colour
Cushions included
Cushions available to purchase

https://www.artelia-design.co.uk/media/furnitures_artelia/piazzo_xl_uk/farbgenerator/piazzo_xl_uk_polyrattan_black_pillowcase_cream.jpg

https://www.artelia-design.co.uk/media/furnitures_artelia/piazzo_xl_uk/farbgenerator/piazzo_xl_uk_polyrattan_brown_pillowcase_cream.jpg

https://www.artelia-design.co.uk/media/furnitures_artelia/piazzo_xl_uk/farbgenerator/piazzo_xl_uk_polyrattan_grey_pillowcase_cream.jpg

https://www.artelia-design.co.uk/media/furnitures_artelia/piazzo_xl_uk/farbgenerator/piazzo_xl_uk_polyrattan_black_pillowcase_black.jpg

https://www.artelia-design.co.uk/media/furnitures_artelia/piazzo_xl_uk/farbgenerator/piazzo_xl_uk_polyrattan_black_pillowcase_green.jpg

https://www.artelia-design.co.uk/media/furnitures_artelia/piazzo_xl_uk/farbgenerator/piazzo_xl_uk_polyrattan_black_pillowcase_red.jpg

https://www.artelia-design.co.uk/media/furnitures_artelia/piazzo_xl_uk/farbgenerator/piazzo_xl_uk_polyrattan_black_pillowcase_grey.jpg
---
Delivery and Dimensions
1x table with glass table top
8x chair
Cream-white seat and back cushions included
---
---
---
Back to product overview