£4,899.99
Incl. Vat
Including Shipping
(Mainland, excluding islands)
Summer's Here – Gather Everyone Around The Fire!
With the RN Range, bigger is better, and it doesn't get bigger than the RN-1 XL with Firepit Table! This is the perfect, extra-large choice for summer evenings when all the family have come over, your friends have dropped by and the neighbours have seen the gorgeous firepit in your garden and decided to see for themselves. For the hosts, there is a pair of deep, luxurious, stand-alone armchairs, with the RN Collection's signature horizontal slats of powder-finished aluminium. Then there is the expansive corner sofa, consisting of two Middle Sections, a Central Corner and a Left-Hand Corner – all of these can be used as separate elements, depending on your particular requirements. There is a choice of smooth spotless white or elegant anthracite. When everyone has taken their seats, then its time for the ultimate centrepiece: our specially designed firepit table, crafted by our engineers to resemble blazing logs in the middle of your garden. The table can be used in the elevated position as a dining table or lowered for coffee or post-dinner drinks. Four panels of unobtrusive safety glass ensure that the experience is safe and stress-free. The flickering firelight takes the atmosphere to the next level, creating not only warmth but also intimacy and cosy relaxation. With an output of 8.8 kW, the table has the power both to light up your garden after darkness falls and to create warmth on chilly autumn nights. When it's time for the fire to go out, simply use the matching cover-plate to create a smooth, uninterrupted table surface.
So Light, So Strong – So Beautiful
The secret of the popularity of the RN Range lies in its combination of style, strength and lightweight user-friendliness. It's so easy to move around the garden, because the aluminium is easy to lift, but it is also extremely strong, so you'll be enjoying it for decades. This set is designed to be outside in snow, sleet and frost – it is completely weatherproof.
We have made sure that our cushions are thicker and more comfortable than anything else available. The cushion covers are 100% polyacrylic and the cushion itself is firm, supportive foam.
Delivery & Dimensions
1x Left-Hand Corner
1x Right-Hand Corner
2x middle section
1x middle corner section
2x armchair
1x Firepit table height adjustable
All cushions are included
Product may vary slightly from image
Including 4 protective glasses for the fireplace, a cover plate for the use of the table without fire function as well as an approx. 1 m long hose (without gas bottle). We recommend propane gas with a capacity of 5 Kg.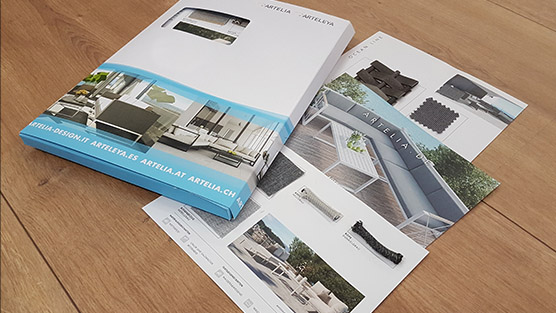 Material Samples
Garden furniture from Artelia - See For Yourself!
Our Materials At A Glance
Our Samples

Get information here on the following topics:
Product Information
Safety Instructions
Our Quality
find out more here