£3,399.99
Incl. Vat
Including Shipping
(Mainland, excluding islands)
Firelight Brings Us Together
When the summer finally arrives, we all want to make the most of it and enjoy our gardens to the full. Here to make that possible is the RN-1 S with Firepit, a creation by our designers that has already become a bestseller across Europe. In a stylish, modern design, the clean lines of the RN Collection's signature horizontal slats will provide a stunning centrepiece for your garden. Made from powder-coated aluminium, either in white or slate-grey anthracite, the frames are designed to be both light and rock-solid and completely weatherproof. Neither cold nor wet will affect the structure of the furniture, allowing you to enjoy it for years to come. We make a great effort to ensure that our cushions and upholstery are thicker, more sumptuous and more comfortable than anything else available. We are confident that you will love it, and that your friends and neighbours will feel the same way.
Height-Adjustable Firepit Table
The highlight, however, comes out at the same time as the stars – after dark, when you are gathered with those close to you to spend the long summer evenings chatting and catching up. Our engineers have designed our firepit to resemble blazing logs as closely as possible, so you have that wonderful atmosphere of gathering around a garden bonfire. The firepit is height-adjustable, so it can be raised up to dining table height or lowered to the level of a coffee table. It can be used for the decorative lighting of terraces and gardens as well as a source of heat and operates with an output of 8.8 kW. Four neat and unobtrusive glass panels ensure that the operation of the table is entirely safe and stress-free. If you need to use the table without the firepit, a matching panel is provided to give a smooth, uninterrupted dining surface. This beautiful set is also available without the firepit, in the same choice of white or anthracite aluminium.
The cover of the lounge furniture set consists of 100% polyacrylic, while the filling material of the cushion is foam.
Delivery & Dimensions
1x Left-Hand Corner
1x Right-Hand Corner
1x middle corner section
1x middle section
1x Firepit table height adjustable
All cushions are included
Scatter cushions not included
Product may vary slightly from image
Including 4 protective glasses for the fireplace, a cover plate for the use of the table without fire function as well as an approx. 1 m long hose (without gas bottle). We recommend propane gas with a capacity of 5 Kg.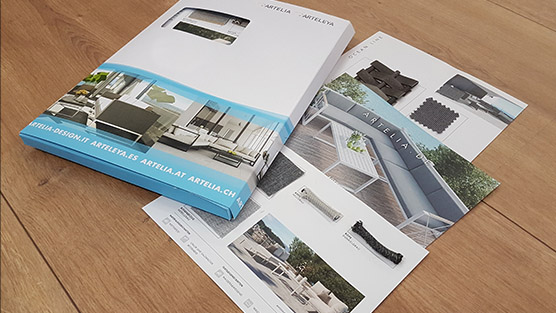 Material Samples
Garden furniture from Artelia - See For Yourself!
Our Materials At A Glance
Our Samples

Get information here on the following topics:
Product Information
Safety Instructions
Our Quality
find out more here