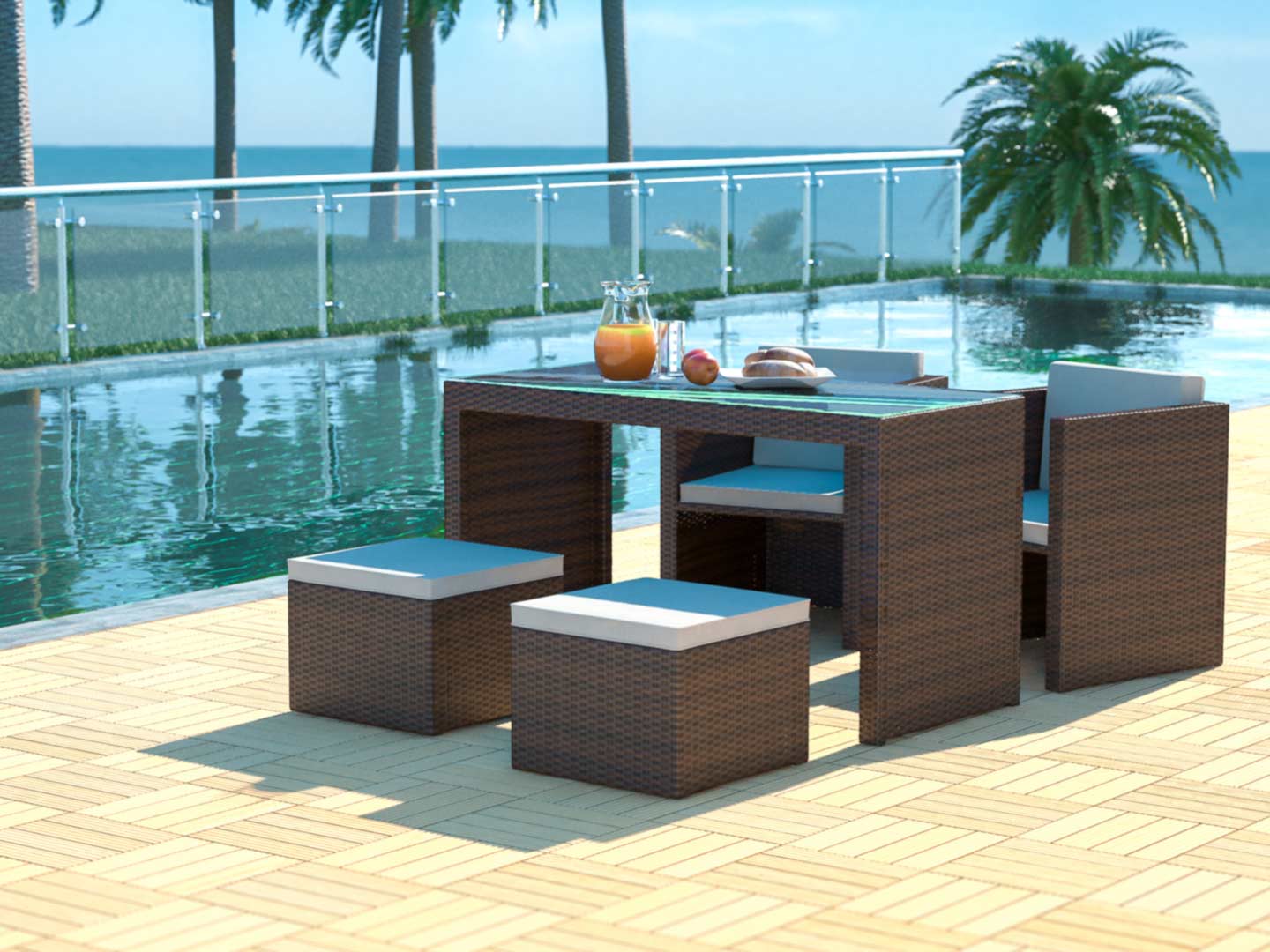 Abelando
Rattan Dining Table Set
Artelia-Design
UK1031
| | | | |
| --- | --- | --- | --- |
| | Rattan | Price | Availability: |
| | coarse grey rattan | £399.00 | OUT OF STOCK! PLEASE CALL TO PRE-ORDER FOR 2018 AND RECEIVE A 15% DISCOUNT |
| | black rattan | £399.00 | OUT OF STOCK! PLEASE CALL TO PRE-ORDER FOR 2018 AND RECEIVE A 15% DISCOUNT |
| | brown rattan | £399.00 | OUT OF STOCK! PLEASE CALL TO PRE-ORDER FOR 2018 AND RECEIVE A 15% DISCOUNT |
Order material samples free of charge!

---
---
360° view
Have a look at the rattan garden furniture set from all angles!
---
Features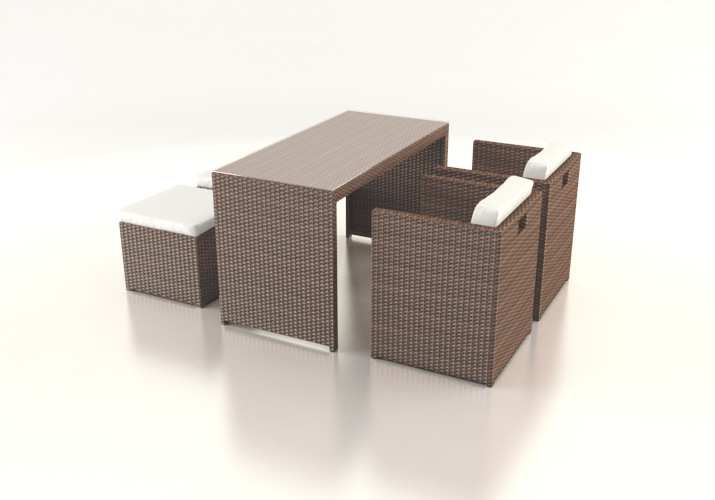 ABELANDO Patio Rattan Cube Set: practicality combined with style
ABELANDO combines modern, sophisticated design with intimate cosiness. This five-piece set consists of two armchairs, two stools and a table, with cushions in fashionable cream-white. The cushion covers are as easy to care for as the furniture itself: just unzip them and pop in the washing machine and let them dry naturally. It's as simple as that! As for the furniture, just wipe it clean with a damp cloth. With ABELANDO you have a patio rattan cube set which you will be using and enjoying for a very long time indeed. As much at home in your conservatory as it is on your patio, you can safely assume that it is weather resistant to anything the British climate might throw at it. ABELANDO is available to buy in black or in brown. The dimensions of the furniture are certainly very generous indeed: the table offers you and your fellow diners plenty of space for meals, games and other gatherings; the armchairs are a generous 60 cm by 60 cm. When not in use, the stools fit neatly under the armchairs, and the armchairs under the table. This makes for a compact and discreet cube set when not in use, and a great way of entertaining guests as soon as you take it out.
The cushion covers of the ABELANDO Patio Rattan Cube Set are 100% polyester and UKFR (UK fire resistant). The cushion filling is foam.
---
Rattan colour
Rattan colour

Please wait, loading...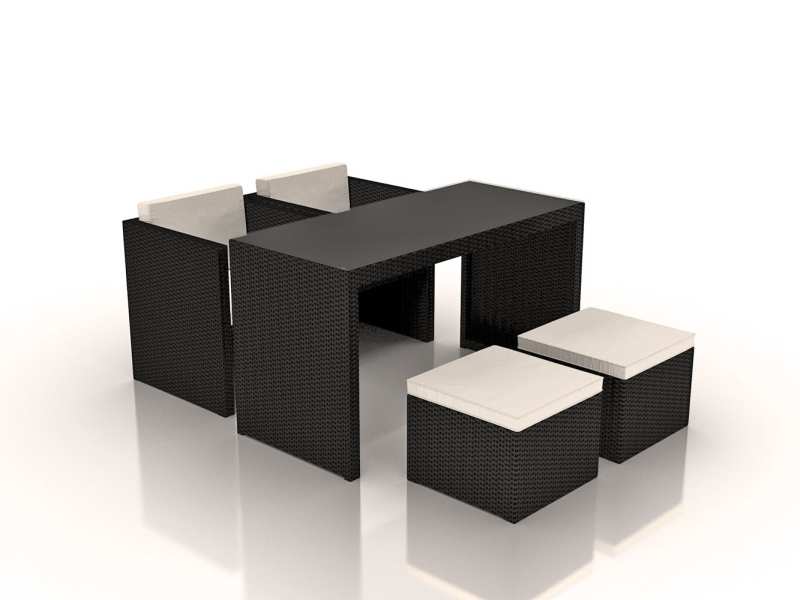 Rattan
Cushion cover colour
Cushions included
Cushions available to purchase

https://www.artelia-design.co.uk/media/furnitures_artelia/abelando_uk/farbgenerator/abelando_uk_polyrattan_black_pillowcase_cream.jpg

https://www.artelia-design.co.uk/media/furnitures_artelia/abelando_uk/farbgenerator/abelando_uk_polyrattan_brown_pillowcase_cream.jpg

https://www.artelia-design.co.uk/media/furnitures_artelia/abelando_uk/farbgenerator/abelando_uk_polyrattan_grey_pillowcase_cream.jpg

https://www.artelia-design.co.uk/media/furnitures_artelia/abelando_uk/farbgenerator/abelando_uk_polyrattan_black_pillowcase_black.jpg

https://www.artelia-design.co.uk/media/furnitures_artelia/abelando_uk/farbgenerator/abelando_uk_polyrattan_black_pillowcase_green.jpg

https://www.artelia-design.co.uk/media/furnitures_artelia/abelando_uk/farbgenerator/abelando_uk_polyrattan_black_pillowcase_red.jpg

https://www.artelia-design.co.uk/media/furnitures_artelia/abelando_uk/farbgenerator/abelando_uk_polyrattan_black_pillowcase_grey.jpg
---
Delivery and Dimensions
1x table with glass table top
2x chair
2x stool
All cream-white cushions are included
---
---
---
Back to product overview